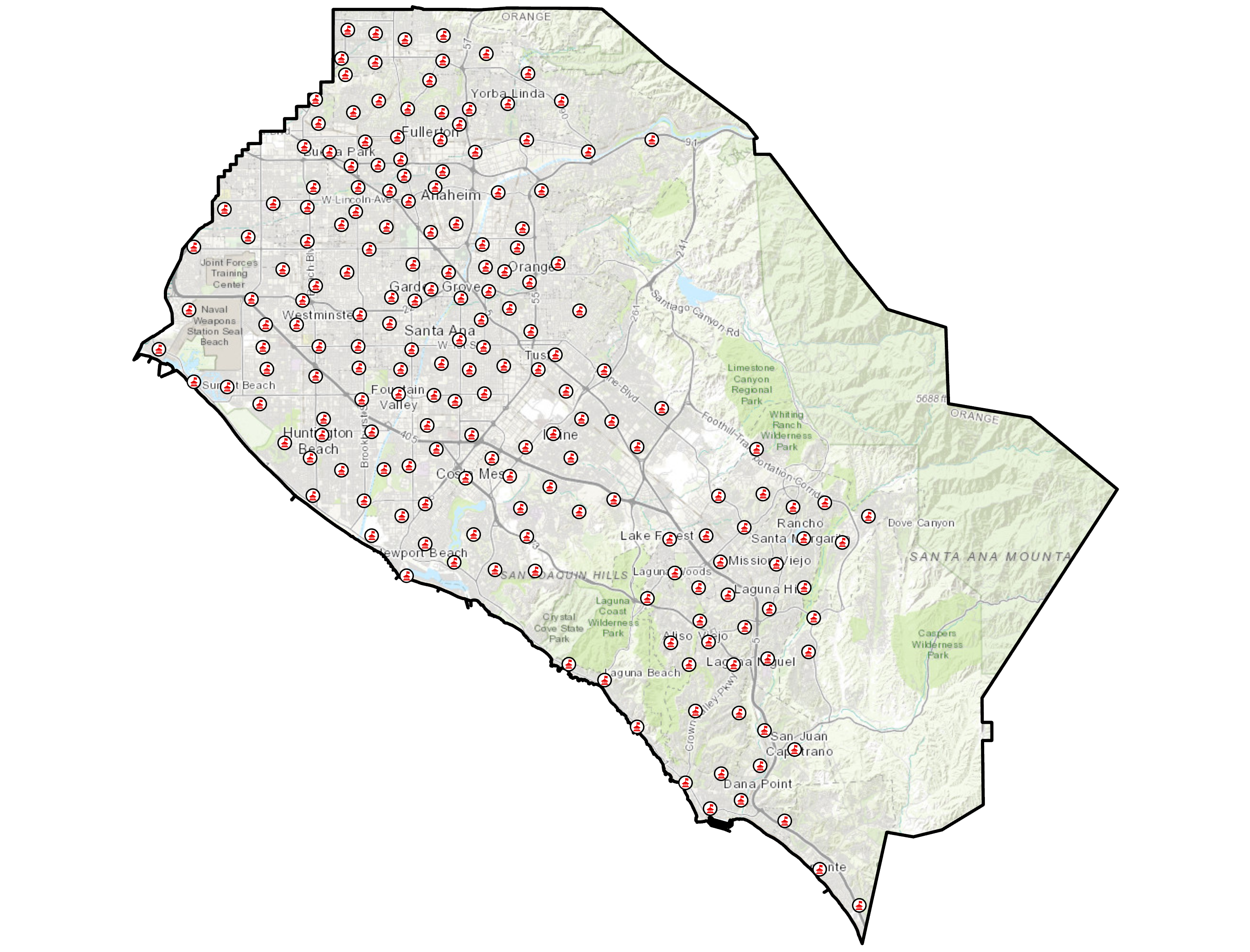 About the Maps Department
The Orange County Registrar of Voters Maps Department manages the agency's address and precinct databases, and provides a range of mapping and data products for the public.  On this page, you will find downloadable and print-ready maps, our map-ordering tool, interactive mapping applications, internal and external GIS data sources, as well as other mapping-related resources and department information.
Browse our Maps
From premade electronic and paper map documents to interactive web mapping applications, we have a range of maps available to explore election data.
Download Premade Maps
View and download pdfs from our collection of current district maps.
Purchase Map Print
All of our premade maps are available as large-sized prints.  Open our Map Ordering Tool to get started!
Interactive Mapping Applications
We have developed a range of web mapping applications to empower you to explore Orange County districts and precinct data that we use for elections. 
Thematic Mapping Applications
Coming soon!
GIS Data
Explore and download a variety of mapping data from the Orange County Registrar of Voters and other sources.
Districts
Congressional
Senatorial
Assembly
Supervisorial
City Districts & Wards
Precincts
Current Sets
Archived Sets
Additional GIS Data
OC Board of Ed
LAFCO
OC Public Works
LA County GIS
We Draw the Lines
US Census
GIS Resources
Have any questions about election mapping or our Maps Department?  Below you will find a range of resources to help you find what you need.
Contact Info
Matthew Eimers
GIS Supervisor
Email: [email protected]
Phone: (714) 567 - 7610
News and Projects
Coming soon!
Ask a Mapper
Coming soon!
External Resources
Coming soon!
FAQs
Still have a question? We're here to help. View our extensive FAQ list by clicking the Read More button.
---
Common Questions
How can I obtain a map?
How can I obtain an electronic precinct boundary file?
Where can I obtain information on my elected officials?
How can I found out in which districts I reside?
Orange County Registrar of Voters - 2020